Color ID

What is the real colour of the ink? The way of showing the colour is a natural way how paper is absorbing and seperateing colors. Thereby the combination of colour start to develop in a very natural way. I'm fascinated by this proces. Each color has a different movement, that makes it exciting to see how the colour developed and wich colors you'll see appear.

I link this color proces to personal colors that shown in a profile picture. So by using an analogue technique combine with digital projection the seperating colors will give an personal projection, so a personal and interactive environment. I show you my concept with a short film.
Aangestuurd door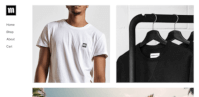 Maak uw eigen unieke website met aanpasbare sjablonen.