Paper fruit and vegetables

I wanted to use the technique of paper making in new ways. Inspired by papyrus, I made a thin paper-like material from different fruits and vegetables. In this way you see all the beautiful detail in the vegetables that are normally hidden.


Aangestuurd door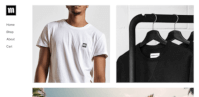 Maak uw eigen unieke website met aanpasbare sjablonen.